"Hidden within the forces that pull us down, lies the POWER to LIFT us back UP"
-Christopher Harrison
Aloha! We are Uplift Yoga & Healing Arts
Hawaii's newest premier Yoga business to offer AntiGravity® Aerial Yoga, Buti Yoga®, Thai Yoga Massage & Sound Healing to the island of Oahu!
Lifting others UP through the POWER of
FLIGHT + SOUND!
Find and review us on Yelp, Google, etc!
Find us on Facebook & Instagram!
Come FLY HIGH with us today!
Upcoming Events & Announcements:
Solar Eclipse Floating Sound Bath
Come "float into bliss" with us for this very special event, in honor of the Solar Eclipse in July. We will start by guiding you through a series of Restorative Aerial Yoga postures in the hammock, ending in Cocoons. For the last hour you will then be guided through a Sound Bath experience while in Cocoon, utilizing crystal singing bowls, chimes, & other healing instruments, as we soak in the vibrations & sacred energies of love, creating a sense harmony, unity, and bliss, as we head into this new season of transformation together.
When: Monday July 1st, 7-9:00 pM
Where: 810 PohuKaina St, Honolulu, Hi 96813
Cost: $44 Pre-registration Online required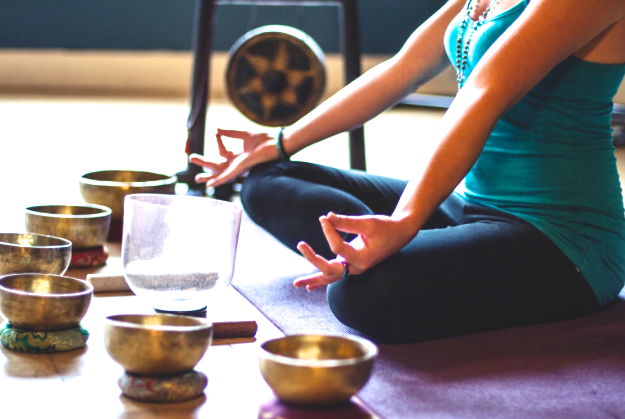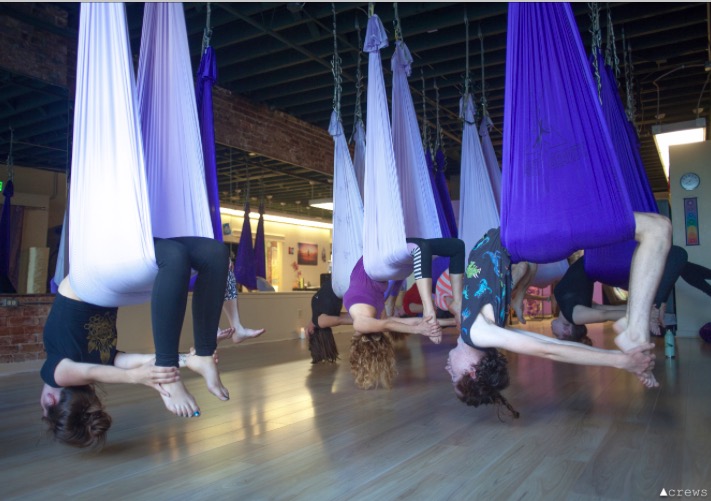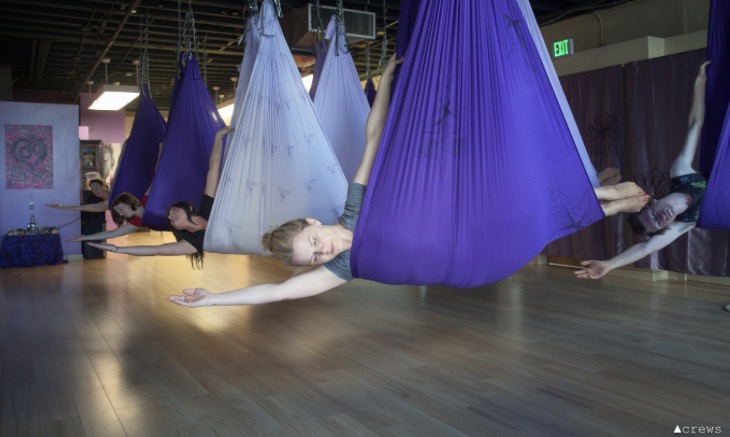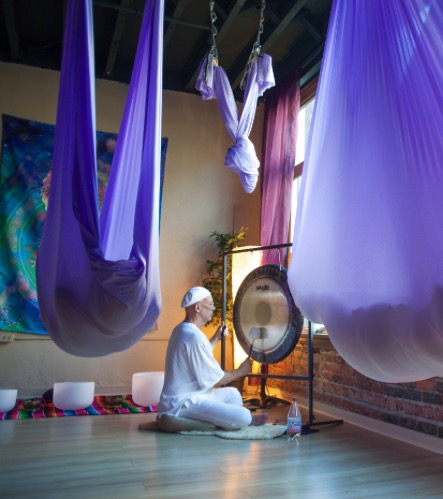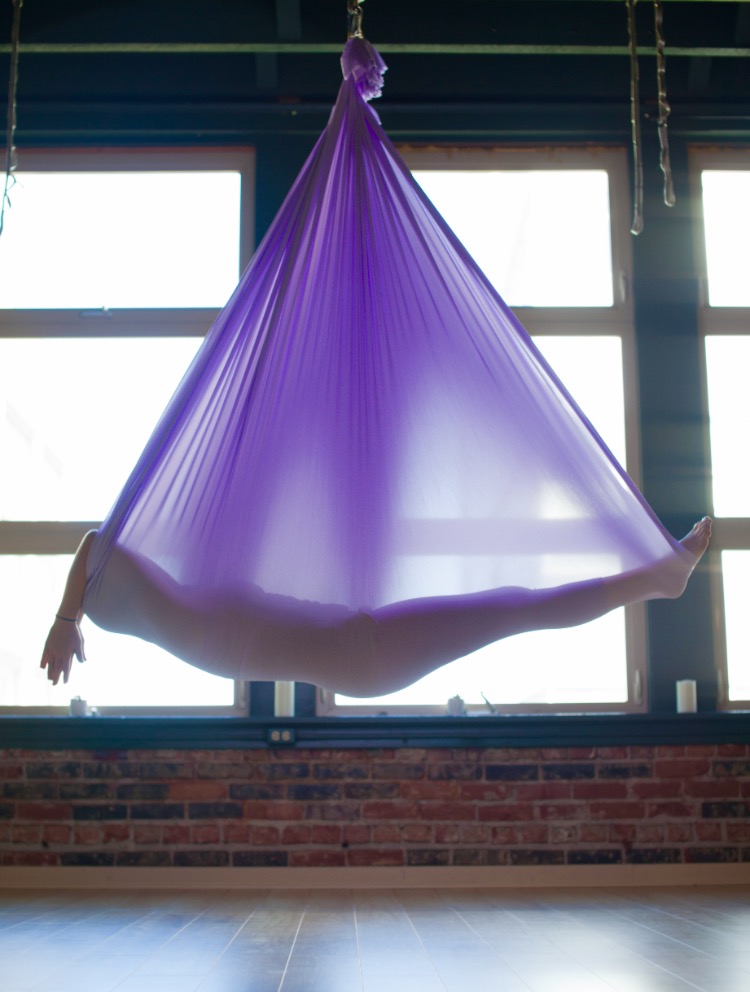 Schedule - Book a Class
New Hawaii Schedule Coming Soon!
To look up our class schedule & book a class, please click on the FareHarbor calendar "Book Now" button in the corner below. If this is your first time here please visit the purchase page to register for your first class. You must register AFTER you purchase your first class pass & create your FareHarbor account. If you click the "Book Now" button below you still need to register for which class you want AFTER the purchase page. It should ask you at some point to create a password for your email, so be sure to do that instead of checking out as a guest. Once your account has been created, next time you want to sign up, you simply have log in to your account on FareHarbor by inputing your password or using the app, click on the class you want to book from the calendar (i.e. Aerial Yoga Basics @ 11 am), register, and you will automatically be added to the class list.
(Please note that ALL CLASSES REQUIRE PRE-REGISTRATION ONLINE! To sign up through our FareHarbor studio calendar & to see our most UP TO DATE class schedule check out the calendar below, as schedule changes may happen from time to time.
Cancellation Policy
If you find yourself unable to attend a class you have signed up for, please alert us as soon as possible. Because we can only accommodate a small number of students we must implement a strong cancellation policy. Cancellations 6 or more hours prior to the start of class will receive a full refund. Less than 6 hours will be charged the full class fee. We do not retroactively discount purchases that have already been purchased. Rates are subject to change without notice. Uplift Yoga & Healing Arts Studio reserves the right to cancel classes at any time, and we reserve the right to offer refunds or not on ALL our class packages at our own discretion. It is the sole responsibility of the student to use your class credits within the given expiration period or you risk losing them, and refunds are not garaunteed or given for unused credits.
Pricing
**NOTE** All of our Yoga class packages & Private Session packages DO HAVE AN EXPIRATION DATE! All class packages expire a certain number of days after first purchase, & expiration dates for each are as follows: Drop-In (30 Days after purchase), 2 Class Pack (30 Days), 4 Class Pack (45 Days), 6 Class Pack (75 Days), 10 Class Pack (105 Days), Single Private Aerial/Sound/Thai Sessions (30 Days)
AntiGravity® Aerial Yoga Classes
10% Off Military Discount/Student Referral
rates on 4, 8, and 10 class packages)
- Drop-In - $25
- New Student 2 Class Pack - $44
- 4 Class Pack - $77
- 6 Class Pack - $111
- 8 class Pack - $133
- 10 Class Pack - $155
Mat Classes - Buti Yoga®
- Drop-In - $15
- 2 Class Pack - $28
- 4 Class Pack - $50
- 8 Class Pack - $90
- 10 Class Pack - $100
Private Group Aerial Yoga Class
(Minimum Requirement of 4 people to purchase)
$99
Private One-on-One Aerial Yoga Class
- 1 Private 60 min. Session - $55
- 2 Private 60 min. Sessions - $100
- 3 Private 60 min. Sessions - $144
Sound Healing
1 Private Intro 60 min. Session - $77
Thai Yoga Massage
1 Private Intro 60 min. Session - $77
1 Private 90 min. Session - $99
Thai Massage + Sound Healing Combo Session
1 Private 90 min Session - $111
Class Descriptions:
AntiGravity - Basics
This is our intro class designed for beginners, where we teach you the basics like how to get into the hammock, fundamental terminology, getting into basic poses like our Zero-Compression Inversions, basic transitions, how to breath through the various sequences, and just starting to get into the flow of how to use hammock with your body and make it work for you. All of our classes are also mindfully sequenced to music, keeping it in tandem with the flow of the class itself, creating an even deeper, more inviting, and uplifting environment to play in and also relax to.
AntiGravity - All Levels
This class is designed, as it says, for all levels of students. Whether your new to Aerial Yoga or are an advanced Yogi whose been to many classes before, this class is designed to be both accessible, safe, fun, and also challenging for any and everyone who wants to do Aerial Yoga with us. It is nice balance and combination of sequences and poses from both Basics as well as Aerial Yoga Flow, again to make it both fun and challenging for any level of student.
AntiGravity - AirBarre
This is AntiGravity's newest program to launch, and it is essentially an Aerial Dance Conditioning class, drawing from and utilizing mainly the techniques of both Barre, Ballet, and Yoga to create a fun, playful, but also challenging fitness class for any and all student levels. I like to describe it as a Ballet Yoga Fusion class for adults, and is fun and accesible to both beginners and advanced students alike, whether you've been dancing and doing yoga for years, or have never taken a single class in your life. Its especially great for toning and strengthening the legs, but is also great for building up core, as well as upper body strength, while creating lovely lines in the body, a sense of grace as well as agility, and the best part, you still get to Cocoon at end of class! So come in and try an AIRbarre class today! We are also the only studio currently in WA to be offering AIRbarre, so this is a particularly unique opportunity to try something completely new and awesome that nobody else in the Puget Sound area is offering right now.
Restorative Aerial Yoga
Imagine coming into a yoga studio, low lighting with candles lit, soothing music playing in the background, and sitting down into a soft, comfortable silk hammock for 75 minutes of Restorative Yoga in a hammock.....sound like something you'd be interested in? Then come in and try our restorative version of Aerial Yoga, where we lower the hammocks down to only about a foot off the floor. It is by far our most relaxing, easy, and rejuvenating class we offer. It is designed for any and all levels of student, from beginner to advanced. All the poses we do are on the floor, including the few gentle inversions we do because yes, even in a restorative class, we still have inversions. The lighting is also very low with only candles on the floor, with very soft and soothing music in the background to help set the mood for the ultimate hour of relaxation. Everyone can enjoy a good restorative yoga class, and the hammock makes it even more accessible and easy to transition from pose to pose, and go even deeper into each stretch, as you relax into your hammock, releasing tension and moving into the flow. It truly is a one of a kind experience, so come try a class today.
AntiGravity - Aerial Yoga Flow (Advanced)
In this class, we take it to the next level, creating more of a flow as we move through the sequencing, using the techniques of Vinyasa Yoga as well as Aerial Yoga, to create a more fluid and dynamic series of poses, mindfully using the breath (Prana) with the movements of the body (Asana), to create both an uplifting and as well as relaxing energy to the class. This is also a more advanced class, and it is highly recommended that all participating students have taken at least 2-3 Basics or All Levels classes BEFORE signing up for this class, as one needs to be comfortable enough using the hammock at a basic level before moving onto this kind of class structure.
Buti Yoga
Buti Yoga is completely new, totally awesome, and intense form of Yoga, created by celebrity trainer Bizzie Gold. Buti combines the art & benefits of both Power Yoga, Tribal Dance, and Plyometrics, into one intense and amazing work out. Utilizing Bizzie's exclusive Spiral Structure Technique, we work through all the layers of muscle to build a strong core, burn away cellulite, release tension, and create a sense of empowerment as women, as we move together. It is a mat Yoga class, so no hammocks involved, and feel free to bring your own mat! No prior Yoga experience required, just a desire to try something new and a commitment to empowering and uplifting yourself. So lets sweat with intention, connect, & thrive together as one. Come join our Buti Tribe today!
Paddleboard (SUP) Yoga
SUP Yoga takes it to the next level by taking your practice out onto the water! We will take you through a full Vinyasa style Yoga practice on your paddleboard out on the water, as we combine our movements with our breath, moving our bodies together as we work with nature & the power of the water. We will end with a relaxing Sivasana on our boards, floating in tandem with the gentle waves allowing you to float into a space of peace & bliss, as you listen to the calming sounds of the ocean all around you. This class is for anyone who loves to paddleboard, and also loves Yoga & trying new things. This form of Yoga though more challenging, is also for ALL LEVELS of students. No previous Yoga experience required, however it is helpful.
What You Need to Know...
Before Coming to a Class
CLASS ETIQUETTE
All our AntiGravity classes are designed for all levels of fitness, beginner to athlete. Though we recommend starting with a beginners class to get comfortable with the hammock. Here are a few other things to note before coming to your first class:
Please arrive 5-10 min early to ensure enough time to have everyone's hammock adjusted for their individual height.
Avoid slippery material clothing (cotton is best)
Wear a fitted shirt with sleeves to avoid both rubbing on the hammock and obstruction of vision, a t-shirt works great.
Remove any loose jewelry or jewelry that may get caught on or snag the hammock before starting class
Avoid eating an 1-2 hours before class
Yoga mat optional
Bring water!
PRECAUTIONS & REQUIREMENTS
Though our teachers have expert training to guide you through the class and can make recommendations and suggestions for you to reach health goals, we are not physicians. Your concerns on health related issues, medications and appropriateness of exercise should be thoroughly discussed with your personal health care provider before partaking in AntiGravity® Yoga and all suspension-training classes. We recommend consulting your medical professional before beginning any new exercise form to see if it is appropriate for you.

Your first few classes may be uncomfortable at times as your body adjusts to the pressure of the hammock. This will subside after a few classes. An alternative during the adjustment period is to use a yoga mat for padding.
Do not practice on a full stomach.
Please inform the teacher if you have any injuries, illnesses or are pregnant. Stay hydrated to help keep your muscles fluid and aid in eliminating toxins.
Do not come to a yoga class if you have used or taken alcoholic beverages, drugs, or medications of any kind (ex. prescription or over-the-counter medications, holistic preparations or illegal drugs) that may affect your judgment or impair your abilities. The hammock is around 3 ft from the hardwood if you fall.
Keep practicing! Soreness after practice is completely normal, this is your body awakening to a new form of movement. The more you practice, the better you will feel. A consistent yoga practice is recommended to receive the full benefits.
CONTRAINDICATIONS
If you have any of the following, from a mild so severe case, we recommend not participating in inversions during class, so please take note if any of these applies to you:
Pregnancy
Glaucoma
Recent surgery (esp. shoulder, eyes, back, hips, hands or wrist) Heart disease
Very high or low blood pressure
Easy onset vertigo
Osteoporosis / bone weakness
Recent head injury
Cerebral Sclerosis
Propensity for Fainting
Carpal tunnel syndrome
Severe arthritis
Sinusitis or head cold
Hiatal hernia
Disc herniation or acute discogenic disease
Recent stroke
Artificial joints
Radiculitis (inflammation of nerve root in spine)
Severe muscle spasms
Botox (within 6 hours)
* Please notify instructor before class if you have any contraindications so they can help you modify your practice.
Please email us at info@uplift-yoga-.com if you have any further questions, as we would be happy to answer them :-)
Services
~Private Sessions~
~Note~ To book any of the following types of private sessions with us, just email info@uplift-yoga.com for scheduling, pricing options, and any other questions you may have in regards to a private session. Thank you.
Thai Yoga Therapy
Traditional Thai Yoga is an ancient system of healing with its roots in Yoga, Ayurvedic medicine and Buddhist spiritual practice. This unique and ancient healing system uses a series of assisted Yogic adjustments and deep stretches, along with certain breathing and hands-on techniques, where both the giver and reciever (client) can experience tremendous benefit and healing during any given session. It releases tension, increases vitality, and creates wholeness of mind, body and spirit in both the client as well as practitioner. A typical Thai Yoga Therapy session lasts about 90 min, and is done on a special type of thick mat on the floor, where the Practitioner guides the client into various poses and assisted stretches, along with other hands on adjustments and techniques, to help the client experience deep healing and release. We also again, like to include and incorporate Sound Healing techniques into these sessions as an option (see pricing page for details), to create an even more deep and holistic experience. Thai Yoga Therapy is truly a wonderful modality that everyone should experience at least once. So if your interested in a session with us, please read the bold print at the top of the page on how to contact us for more info.
- Please arrive 5-15 minutes early for your session to get checked in and fill out the waiver & intake form
Sound Healing
Along with Yoga, Sound Healing is also a very ancient art form that has been used and practiced for thousands of years, and Sound Healing especially has been used throughout history, in many different cultures both ancient and modern, around the world, to bring deep healing, connection, and understanding of the universe through music, to this planet and its people. Music afterall, is the only truly universal art that anyone from any culture can understand and feel connected to, which is why it is so healing on both a physical, mental-emotional, and spiritual level. The goal of Sound Healing & vibrational medicine is to unify, harmonize, heal, and bring balance back into the back, mind, and spirit through the power of sound & music.
During a typical one-on-one Sound Healing session, I like to combine both Sound Healing techniques, with the added benefits of Yoga, as both art forms are very much intertwined and compliment each other well. So in any given session, I usually start by guiding the client into various different Yoga poses on the mat with blankets, bolsters, blocks, etc. After guiding the client into a pose, I will then utilize various sound healing tools and techniques in tandem with each pose, using tools and instruments such as toning, tuning forks, and singing bowls by placing them on various specific places and points on the client's body, to create a much more holistic sense of healing and well being than previously experienced. So come try a session with us today to find your inner bliss through sound, we promise you'll walk away feeling more relaxed, clear, and uplifted than ever before.
- Please arrive 5-15 minutes early for your session to get checked in and fill out the waiver & intake form
Biography
Anna Noel
Certified AntiGravity® Yoga Instructor Level 2, RYT 200 HR
Certified Sound Healing Practitioner, Certified ACROVINYASA® Instructor
Certified Buti Yoga Instructor
As a young girl, Anna has always had a passion for both movement and music of all kinds. Her journey of exploration through movement started while taking dance lessons starting at the age of 4. After a decade of dedication to dance, she then started exploring the world of Yoga when she was just 16, and has been an avid Yogi ever since, diving deep into both the practice and philosophy side of this ancient healing art form. Then in August of 2012 she finally received her 200 hr Yoga Teaching certification through the White Lotus Foundation in Southern California, studying under her teachers, the wonderful Ganga White and Tracey Rich. Her teaching style is Vinyasa Flow to music, focusing on the breath and using it as a guide as she leads students through a variety of sequences, applying her skills both on the mat in Vinyasa Yoga, and in the air for Aerial Yoga with a hammock.
Her exploration of the world of music also started when she was very young, and when she was just 7 years old started playing piano, and soon after that took up violin and vocal training as well, eventually leading to a full on passion for music of all kinds, both listening to and playing herself. Then at the age of 22, discovered the wonderful world of Sound Healing/Sound Therapy, which uses sound and music as a sacred tool to heal people from the inside out. She then went on to also receive her certification as a Sound Healing Practioner through David Gibson & the Globe Institute of Sound & Consciousness in San Francisco, CA in June of 2012. Now she primarily focuses on singing and playing guitar, as well as Singing Bowls, tuning forks, her tank drum, and other tools used specifically for her Sound Healing practice.
It was finally in the spring of 2014 however, that she discovered her true life's passion, AntiGravity® Aerial Yoga, where soon after becoming a certified AG Aerial Yoga instructor herself in June of 2014, and after almost of year of teaching Aerial Yoga professionally on a weekly basis to hundreds of students in the Seattle area at Levitas Studio, now teaches 7 AntiGravity® classes a week at the Good Karma Center for Joy in downtown Tacoma, WA since May of 2015.
She also became certified in Thai Yoga Therapy earlier this year in 2016, studying under the wonderful Eric Spivack of Soaring Crane Massage in Seattle. After finding another passion of hers and falling in love with Thai Yoga Therapy, she not only wants tobring hands-on-healing to her students and clients, but also wants to expand her one-on-one practice and clientele, and bring another amazing healing art form back into the community.
Her plans for the near future include opening up her own studio where she can not only expand both her Aerial Yoga classes, as well as her Sound Healing practice, but combine them in a way that has never been done before, bringing it to a wider audience and demographic of people that have never experienced this art form before now.
Besides Yoga and music, she also enjoys going on long walks with her dog, exploring the city and going out in Seattle, especially to see live music, hiking, camping, and traveling in general. And even though she in a PNW native and grew up here, has no plans to leave this amazing area anytime soon. <3
Testimonials
Here's what just a few of our satisfied clients have to say about our Sound Healing & Yoga services...
"As an individual who is in tune with the energy inside of all things, I was open to the idea of healing with sound and energetic vibrations. Anna is incredibly passionate and her sessions are far-reaching and powerful. She asks you what's going on in your life and decides which chakras/tuning forks to work with based on your intentions right now. During the session, I fell deep inside myself on a meditative journey after our time together, I was certain that the blockages within my body were dissolved. I felt at peace, like a smiling, innocent child right before bed. At bliss, I thanked Anna and slipped off into a deep slumber. I recommend Anna's healing energy for anyone at anytime!"
– Laurel, AZ
"Anna's tuning fork treatment was great. It was a soothing and restorative experience. I felt energetically balanced all afternoon. Thank you Anna, for sharing your gifts with me through our session together, it was wonderful."
- Sean, NM

"Anna's session with me using tuning fork therapy left me relaxed and invergerated. Her approach was professional and intuitive. Thank you for such a positive experience Anna!"
- J.R., ID

"I had not heard of tuning fork therapy before and what I had expected was to feel a little calmer after the treatment. What Anna did, however, was pull all of the negative energy I was feeling in my chakras out. I could feel the energy calm while she used the tuning forks up and down my chakras. It was much more than I ever expected and I am so happy I was introduced to this amazing form of sound healing by such an adept practitioner. Thank you, Anna. I highly recommend your services to anyone looking for a bit of healing."
- Heather, NJ

"While attending a yoga teacher training together, I had the fortune of meeting Anna, and witnessing her awesome healing powers first hand. I have been dealing with several health issues in my back for years now including a herniated disc and painful sciatica, that due to 2 weeks of heavy and vigorous daily yoga practice, had become inflamed. I had also been dealing with a severe headache and nausea, when Anna noticed that something was bothering me, came over and asked what was wrong. That's when she decided to drop everything she was doing, in order to offer a helping hand and some healing to me, which I definitely needed. I figured it couldn't get any worse so I might as well try and see if it might help. It was then that had me sit down, while she continued to "work her magic" on me so to speak. For the next 10 min., I was bestowed with her gifts of healing as I could immediately feel energy flowing freely through me, moving through any and all areas of pain within my body, and could even feel this energy "un-sticking" if you will, all the areas in my body where there had been stuck energy, and literally felt it moving all the negative energy, down and out through my intestinal tract, until the sick feeling I had been carrying around all day, and all the nausea was gone. Within the next 30-60 min after we had finished our session, virtually all the pain caused by the sciatica I had been feeling was gone from my hip and lower back, allowing me to return happily to my day, and to my practice. So thank you Anna, I will never forget our time together, you truly have a gift."
- Krysti, NB
"My sound healing session with Anna today made me feel extremely uplifted, becoming aware of my surroundings, yet also very relaxed. It was late at night right before I was about to go to bed, and because I felt so relaxed after our session, I fell asleep almost immediately after, and felt such a clarity after wards, especially after waking up the next morning. I thoroughly enjoyed the sense of peace, serenity, and purity I felt and experienced during our time together. So thank you Anna, for sharing your gifls, and introducing me to such a powerful healing modality. I'd recommend you to anyone. looking for some release and healing."
- Lindsay, IL
"The treatment Anna gave me was extremely relaxing, and cultivated a wonderfully peaceful space. I felt very safe and contained during the session. The vibrations I was feeling allowed me to release a lot of tension and stress that I had been holding onto. After the session was over, I felt lighter, and much more aware of my surroundings, I felt more present. I enjoyed the treatment very much, and would certainly do it again, and can't recommend Anna highly enough. She has great energy and presence about her. Thank you so much for a wonderful experience Anna."
- Clive, UK
"The vibrations from the sound waves and from Anna's energy resonated so strongly throughout my whole physical and energetic body, and even afterwards still remained in my immediate awareness, and left a lasting impression. The frequency and vibrations calmed and centered me, allowing my thoughts and the stresses of my day to subside, and to be enveloped in a feeling of pure, utter relaxation. Thank you so much Anna, I feel great!"
-Terra, KS